Moving is exciting while also stressful. It's not easy to pack up everything you've accumulated over the years, move it, save money, and still find time to live your life, and that's why people scour the internet for moving tips when it's time to make the big move. If you're buying or selling, you need to get your belongings together and learn how to make your move as simple, affordable, and stress-free as possible. These tips will help.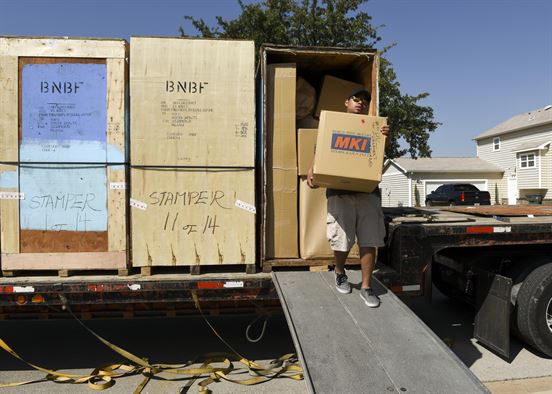 Start Early
Don't want until it's time to pack up and leave to start packing to leave. Get started the moment you list your home or begin the search for a new home. It's easy to pack a little at a time beginning with the things you don't use regularly.
De-Clutter as You Pack
You don't need everything you have, even if you're not the type to collect all kinds of additional items at home. Get rid of things you don't need and can't use when you're packing. Don't keep anything that has no use in your everyday life. Decluttering is one of the keys to saving money on your move!
Sell What You Don't Need or Want
De-cluttering is a little easier when you can make a few dollars off of it. It's not easy to part with your belongings while purging, but it's a bit easier to do it when you are making a buck off it. Sell it online, take it to a consignment shop, or even host a garage sale before you move.
Let Buyers Buy What They Want
If the people buying your home want to keep some of your belongings, add it to the sales price. Not only does this mean you're no longer responsible for packing it, but you're also making money from it to use towards your moving expenses or your new furniture in your next home.
Label it All
The best thing you'll ever do when you move is to label every single box, especially if you are moving things into storage. Only put like items from the same room in boxes together. Keep the kitchen with the kitchen, separate the guest bathroom and the master bathroom items, and keep the kids' stuff in their boxes. Label each one and put the boxes in the correctly labeled room the moment you take it into your new home for the first time.
Hire Movers
It might seem more expensive to hire movers when you move, but it's usually quite affordable, especially if you find a site like this to do all the price comparisons for you. You won't worry about damaging anything, renting a moving truck, or doing all the heavy lifting on moving day. Your job is to do nothing but unpack as the movers bring your stuff so you can settle in that much faster.
Moving is exciting when you're finally moving into your dream home, so don't let the packing and moving process bring you down. There are a dozen different things you can do when you buy a new home, and each one is going to make your move that much simpler and less stressful.